The Dollar Bill is a form of currency used in Beach City.
Appearance
The Dollar Bill is a green rectangle with the word "one" inscribed in the middle, an upside down diamond, and the snake from the "Coin". In each of the four corners there is a number one. The words "United States of America" are printed in the center on top, and "One Dollar" on the center bottom. They closely resemble the dollar in U.S. currency.
Episode appearances
Steven uses this currency to buy donuts for the Crystal Gems at the Big Donut.
Steven buys a donut and surprises Sadie and Lars by letting the cat finger give them the buck.
Ronaldo Fryman tells Steven his theory about the symbols printed on the bills. According to Ronaldo, the snake on the right side of the dollar represents the Snake People. The diamond on the left symbolizes the Snake People's "underground mines... or their sharp teeth." Later, Ronaldo revises his theory of the diamond's meaning: "Polymorphic Sentient Rocks" (Which, unknown to him, are the Crystal Gems). Ronaldo also said that Polymorphic Sentient Rocks are part of The Great Diamond Authority.
Sadie suggests Steven should sell his Watermelon Stevens to Beach City residents to earn money.
Stevonnie buys two donuts for themselves (Steven and Connie) to eat, but Sadie and Lars let them keep their money, saying it's on the house.
Greg and Steven are seen handing stacks of dollar bills to the employees of Empire City's Le Hotel multiple times. For example, when they first enter and give Ricky some cash to rent out a suite.
While singing "I Think I Need a Little (Change)" at the Beach City Pier for money, a bystander drops a dollar bill into Greg's guitar case. This turns out to be the only money he earned, since two bottle caps and a button were the only other things inside.
Trivia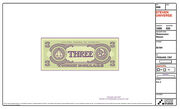 In addition to the one dollar bill, two, three and one hundred dollar bills are also depicted in the show.

A two dollar bill does exist in the U.S. but is not in wide circulation.
Three dollar bills, however, do not exist, but they did exist in several states in the United States' formative years before a unified currency was created, and several fake three dollar bills have been created to satirize politicians and celebrities.

The snake on the right side of the "Bills" draw inspiration from the snake on the Gadsden Flag and the snake from a political cartoon by Benjamin Franklin titled "Join or Die".

The snake on the "$1 Bill" can also be seen on coins used in Beach City.
The back side of the dollar bill resemble the reverse side of the U.S. one-dollar bill.
The dollar bill confirms Beach City is in America.
The upside down diamond on the bill is identical to Pink Diamond's gemstone.