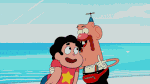 "Don't worry, bro. None of this is canon."
This article contains information on a subject that is not considered canon in Steven Universe.
The Electric Skulls are minor antagonists, and made their debut in the Pilot.
History
According to Pearl, they had been invading the Crystal Palace.
Features
Green crystals in place of their eyes, and on the center of their forehead.
Pink/red hair.
Turquoise head.
Markings around the eyes.
Maniacal Laughs.
Spiked collars on their hair.
Abilities
Flight.
Senses holes in the fabric of time.
Charging itself, and can discharge enemies.
Can move its hair freely.
Trivia
The Electric Skulls seem to be at least partially inspired by Mexican sugar skulls used during the "Día de los Muertos", or Day of the Dead, which in turn appear to be in some parts based on Aztec sacrificial skulls.
Their weakness in combat appears to be the removal of their hair pieces.
The Electric Skulls are the first antagonists in the entire series, albeit non-canon.