Fish Stew Pizza is a pizzeria in Beach City, owned and operated by the Pizza family.
Employees
History
Steven tells everyone in the restaurant that he has a new pet lion.
The sign on the roof was accidentally wrecked by Garnet, resulting in the Crystal Gems being banned from the restaurant "for life" until the end of the episode.
Steven and Garnet came to Fish Stew Pizza to talk.
Fish Stew Pizza competed against Beach Citywalk Fries to see which one was the best restaurant.
At Fish Stew Pizza, Steven puts up missing posters of Lion, whom he hasn't seen since he left with Connie, in the window.
Reception
The pizza's quality is up for debate. While Steven and Ronaldo like it, in "Beach Party", Amethyst claims that the pizza there isn't even that good, to which Pearl and Garnet agree. It should also be worth noting that after eating a pizza bagel prepared by Steven (a simple meal to make), Kofi immediately felt it was a threat to his business.
Location
Fish Stew Pizza is located between Beach Citywalk Fries and a door attached to a wall painted with fish designs, possibly an employee entrance.
Trivia
The restaurant provides WiFi, as Ronaldo is seen browsing his blog on his laptop in "Steven's Lion".

Because of this, he is one of their most frequent visitors, as he states on his blog.[1]
This is again mentioned in "Restaurant Wars".

A photograph can be seen in the pizzeria which features a figure that looks suspiciously like Ruby. The mystery figure has both her general body shape, as well as her distinct haircut complete with bandana/sash.

Since the episode "Secret Team" aired long before Garnet was revealed to be a Fusion Gem, this could be considered another early clue by the Crewniverse as to Garnet's true nature.

As seen on a business card on Steven's refrigerator in "Keeping It Together", their phone number is (443) 555-0156.
Fish Stew Pizza offers reward cards. Collecting four of them results in a free pizza.
This is the only place where Garnet has been shown eating/drinking something in the show. This was only seen in the episode "Secret Team".
Ronaldo interviewed the Pizzas for his video on the Crystal Gems at Fish Stew Pizza, shown in the episode "Rising Tides, Crashing Skies".
Gallery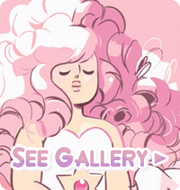 References