"

I'm going to bring the ocean back, or get really thirsty trying.

"
—Steven
"Ocean Gem" is the 26th episode of the first season of Steven Universe, and the 26th episode overall.
Official Synopsis
The ocean disappears on the first day of summer, and Beach City is in a panic.[2]
Plot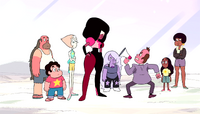 Ocean Gem starts with the Gems angrily telling Steven that he is grounded for disobeying orders. Amethyst mistakenly takes this literally and threatens to bury Steven until he learned his lesson. Before the Gems try to take away his privileges, Greg shows up and tells them to come outside where the Gems see that the ocean is missing. Mayor Dewey, nervous and shouting loudly, blames the Crystal Gems. He cries, claiming that no one will come to "Desert" City. Garnet tells him that it was Lapis Lazuli, and Pearl explains the current situation. Still upset, Mayor Dewey frantically begs them to fix it. Steven, while inside the Beach House, prepares to find Lapis, as he acknowledges that the whole situation was his fault. Not wanting him to be alone, Connie, Greg, and Lion all want to join him on his quest, with the Gems adding in that they obviously have to go. Garnet also adds that Steven is ungrounded. As the Gems, Steven, Connie, Lion, and Greg are leaving, Mayor Dewey sadly starts a hose, and starts to pour the water into what used to be the ocean.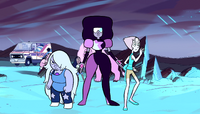 While driving, Greg plays some music that Rose liked, and Garnet, greatly disliking it, jumps out of the van. She spends the rest of the trip riding on top of the van. Before they arrive Steven questions why Lapis is fighting them. Pearl admits that not all Gems are good, and explains that the monsters they fight were Gems that became corrupted and broken. When they arrive, they see a large tower of water that leads into the sky. Lapis, sensing them, yells that they should not be there and should leave her alone, and Steven responds that they are not leaving unless they get the ocean back. Lapis then makes water clones of the Crystal Gems, and the Gems fight them. During the battle, Greg gets his leg broken by the water clone of Steven when it makes the van drop facedown from a height. Steven, telling Lapis that he does not want to fight anymore, activates his shield due to his anger towards Lapis for attacking Greg and Connie, and his fierce feeling of love to protect them. The resulting vibration from the attack deflecting off of Steven's shield force the water clones to dissipate. Then Steven, telling Lapis that he is coming up to see her, goes to the top of the tower to talk to Lapis.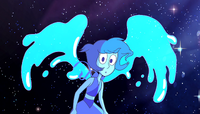 Lapis explains that she does not believe in protecting Earth and wants to go back home, but her gem is cracked, so she was commanding the ocean to make a tower that could take her to her home. Steven, remembering his healing powers, fixes her gem in return for the ocean. When her gem is fixed, Lapis' eyes are healed, and she gains wings made out of water. Thanking him, Lapis flies off into space. Suddenly, the tower falls and Steven falls with the tower. Teaming up, Lion and Connie are able to catch him before he lands. As the Gems, Steven, Connie, and Greg return, the residents of Beach City congratulate him as their hero. Garnet acknowledges that Lapis made it off the planet, and Pearl asks what it means for them. Garnet says to wait and see. Steven says goodbye to Lapis Lazuli wherever she may be, as the star iris closes on a glimmering sparkle far away.
Features
Characters
Objects
Locations
Music
Instrumental Songs
Trivia
This episode revealed that all monsters were once Gems that had become Corrupted and broken by some currently unknown source.
This episode reveals that it is likely that the Gems are from another planet.
This episode also shows that all of the Gems are able to use dual weapons, except Garnet, due to her already using two gauntlets.

This was previously hinted in "Together Breakfast", when Amethyst was shown to summon two whips.

A variation of the ending theme is played at the end of the episode when Steven and the Gems return.

This is the only time the variation plays its introduction before playing it.

Steven is shown to be able to use his bubble shield on large things, as he bubbled Greg's van to shield him and his team-mates from drowning in the ocean.
In the title card for this episode you can see there are none of Steven's clothes being dried and the ocean has also disappeared, referencing the events in the episode.
Amethyst has a very warped grasp on the definition of grounding (and possibly other terms), as she was prepared to literally bury Steven in the sand.
According to Ian Jones-Quartey, this episode was going to be the last episode of the whole series.[3]
Cultural References
When Steven says "I'm going to bring the ocean back, or get really thirsty trying" it could be a reference to rapper 50 Cent movie and album entitled Get Rich Or Die Tryin.
When Garnet punches through the head of her water double it reforms around her fist; a reference to Terminator 2: Judgement Day where the T-800 similarly punches through the head of the liquid metal T-1000.
When Garnet jumps out of the van, she uses a roll similar to the "stop, drop, and roll" technique and a roll seen in many action films.
The Water Tower is a reference to The Tower in the episode The Tower of Adventure Time.
When the Water Clones summon their weapons, Amethyst says "Ruh-Oh"; a reference to Scooby-Doo.
Corrupt gems are similar to the Kishin from the anime and manga Soul Eater. in that they were both driven to madness causing them to become more monsterous and later imprisoned in a temple.
Lapis' tower is an allusion to the mythic Tower of Babel, as both were created to reach the heavens/space and ultimately fail.
Lapis' water clones are a popular trope, particularly in sci-fi, where an antagonist creates perfect duplicates of the protagonists to the point where neither fighter can get ahead.
The reveal that all the monsters were previously Gems who became corrupted is a possible reference to the anime and manga series Puella Magi Madoka Magica, in which magical girls whose Soul Gems have become corrupted turn into Witches, similarly mindless monsters.
Continuity
This episode continues from "Mirror Gem".
Pearl mentioned Greg's saying "If every porkchop was perfect, we wouldn't have hotdogs". by asking him about "that thing [he] always said", which was in the episode "Laser Light Cannon".
When Steven gets ready to find Lapis, he puts on his Cheeseburger Backpack that he got in the episode "Cheeseburger Backpack".
Before the fight with Lapis, she makes a construct of Steven's face from the tower while he screams "NOOOO", which is a line he says in the previous episode "Mirror Gem", that is also replayed several times by the mirror.
Amethyst shapeshifts into Purple Puma from "Tiger Millionaire" again in order to fight her water duplicate.
When fighting her water clone, Pearl says "I hate fighting me", a reference to when she fought Holo-Pearl in "Steven the Sword Fighter".
The Stevens from "Steven and The Stevens" went too far into the future and accidentally visited a scene from "Ocean Gem".
A collection of monsters from the series were shown in flashbacks. These include: the Centipeetle Mother from "Gem Glow", the Worm Monster from "Bubble Buddies", the Gem Cave Creature and the Drill Parasites from "Arcade Mania", Watermelon Tourmaline from "Beach Party", and the Ice Monster from "Monster Buddies".
"House Guest" is a continuation of this episode, because Greg injures his leg in this episode, and his van/home was destroyed.
Greg mentions that he had a great idea for an album cover when they approached the ocean. The album is later shown in The Message.
Errors
In the first scene inside the van, Pearl was wearing a seatbelt. Which disappears the next time.
In the scene where Connie and Steven are riding Lion while Pearl is driving Greg's van, Connie's eyes are missing.
Near the end of the episode when Amethyst tells Steven "That's how you do it", Garnet and Lion disappear when they are supposed to be in the background.
When the population of Beach City lift Steven, other characters who were seen from far away disappear.
When Pearl was talking to Garnet, Garnet's left shoulderpad was colored black.
When Garnet was fighting her water counterpart, she was making grunts, although her mouth was not shown to be open or moving.
The same thing happened in the beginning of Amethyst's scene.
Lapis' water pillar is able to reach out into space, but not even as far as the moon. If she really focused all the ocean's water into a pillar of that size (judging from the scenes showing the Earth from above, she did), it should be much taller than that (Earth's ocean is about 1.3 billion cubic kilometers in volume. Even a width of 50 meters, a high estimate for what we saw, would require it to be about 660 billion kilometers tall; about 4400 times the Earth's distance from the sun). —so much that creating it in a day would require most of the water to have traveled faster than the speed of light. Although even that would not be anywhere near far enough to reach another star system as Lapis wanted.
The design of Amethyst's clone was inverted during the weapon summoning scene, even though before and after it was not.
When Pearl slices one of Lapis' Water Clones in half it reforms into two more water clones, however both of these are the same size as the original which should not be possible considering that each individual clone is made up of less water than the original.
When Steven dispels his shield, neither Greg nor his van is behind him. In previous scenes, he was very close to Steven and Connie.

When the camera shows Lapis from behind, there is an animation error where her forearms were not colored.
When Garnet catches Steven after he is thrown back by his water counterpart, her mouth goes missing for a few frames.
At the end of the episode, Steven is seen sitting on Mayor Dewey's shoulders. But a couple of scenes later, he is on Lars' shoulders.
Transcript
View the episode's transcript here.
Gallery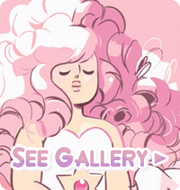 Videos
References