"Shirt Club" is the 47th episode of the first season of Steven Universe, and the 47th episode overall.
Official Synopsis
Steven and Buck Dewey make T-shirts together. [2]
Plot
The episode starts off with Steven drawing flyers for Greg's guitar lessons. He then calls for the Crystal Gems to see what they think. They appear on the couch right under his room, apparently assembling a stool. The Crystal Gems don't quite understand his drawing and the meaning of "rock". Garnet suggests that Steven replace the lightning bolts around Greg's guitar with rocks, to represent the "Power of rock." Steven goes with the design anyway because he used permanent marker. Steven then goes to the Big Donut to put up his flyer as Buck Dewey orders a caprese salad. Eager to impress one of the "cool kids", Lars quickly rushes to the kitchen as Sadie states that they don't even have vegetables in the store. Buck sees Steven's flyer and asks him about it. Steven explains by taping one on Buck's shirt as an advertisement, making him laugh and inspires Buck to make it into a t-shirt.
They go to the Abandoned Warehouse, where Bill Dewey is assembling political inventory. There, the mayor is excited to see his son get back into the family business. However, Buck explains that they're making T-Shirts for Steven's flyers, not for his election campaigns. Spotting an old drawing by Buck, Steven discovers that he used to help Mayor Dewey with his elections. Buck, embarrassed, quickly discards the old picture and asks Mayor Dewey to leave. Buck and Steven start making T-Shirts while the mayor walks off in dismay.  
Eventually, after wasting plenty of ink, Steven and Buck finish the T-Shirts. Buck decides to deliver the shirts in the most radical way possible. Mystified, Steven follows him into town.  
Above the boardwalk on top of the Funland Arcade, Steven quickly learns how Buck plans to deliver the t-shirts. As a spotter, Steven identifies oblivious town residents for t-shirts, while Buck uses a t-shirt cannon to fire them. While many town members are mystified by the appearance of the t-shirts, Lars is the first to spot the duo overhead. Soon, Buck and Steven are satisfied with their deliveries and go to Fish Stew Pizza for a break.  
At Fish Stew Pizza, Buck mentions that the shirts will be great for a laugh. Confused, Steven watches as Jenny shows off her new shirt, calling it hilarious. Buck insists that the only important thing is that people are talking about the shirts. Steven goes to see Greg and realizes that no one has actually sat down for a lesson with him yet. Angry, Steven returns to the abandoned warehouse to find Buck making more shirts, where he tells Steven that his design is actually terrible and that he finds how much he loves his dad to be "hilarious". They argue, with Buck mentioning how he will continue to make the shirts as long as the trend persists before leaving to join his father at a bench commemoration.
A dejected Steven returns to the temple and asks the Crystal Gems for help. They decline to help him on the basis that the problem isn't physical and not a serious situation that would warrant the intervention of the Crystal Gems. Garnet suggests to Steven that he needs to learn how to work this kind of personal matter out on his own, which gains the enthusiastic approval of Pearl and Amethyst. Steven seemingly comes up with an idea and cryptically states that he will take care of it and leaves, leaving the Crystal Gems skeptical but relieved.
Steven returns to the Funland Arcade roof with his T-Shirt Cannon. As Mayor Dewey attempts to give a speech at the bench commemoration, Steven fires t-shirts at the small crowd. Seeing the flying projectiles, Mayor Dewey's bodyguards quickly desert him and he is hit with a T-Shirt. The rest of the crowd dissolves into chaos as Steven takes aim and continues firing. Eventually, Buck picks one up to see that the shirt is the same picture he drew for his dad when he was little. Satisfied, Steven leaves the scene. The rest of the crowd slowly returns and examines the new T-Shirt. While Lars, Jenny, and Sour Cream laugh at the shirt's design, Bill Dewey examines the shirt and is touched by his son's picture. Buck sheds a single tear.
Back at the car wash, Steven gives Greg the last Guitar Dad shirt saying its super limited edition. Buck shows up to apologize, and Steven accepts. Greg asks if Buck is going to take a picture, but Buck replies that he wants to take a lesson as he opens his jacket to show his Guitar Dad shirt.
Features
Characters
Objects
Dog-Nut (pictured)
Nut-Dog (pictured)
Steven's Flyers
Buck's Flyers
Guitar Dad T-shirts
Locations
Production Notes
While originally the 47th episode of season 1, it was added to season 2's rotation due to StevenBomb premiering season 2 prematurely.

This explains why Garnet appears in her pre-regeneration outfit in the episode.
Trivia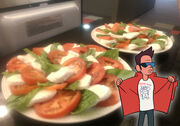 In honor of the episode, the crew shared a Caprese Salad (referencing Buck Dewey's request).
It is shown that when he was little, Buck Dewey used to draw campaign designs for his father's elections.

As a result of helping his dad's campaign, Buck Dewey is an expert t-shirt printer.

The promo art for this episode depicts Steven and Buck Dewey wearing each other's shirts.
Greg's phone number is revealed to be 555-0182.
Cultural References
One of Mayor Dewey's "hip" phrases is "Peace in the Middle East". The line is a reference to American President Jimmy Carter, who was heavily involved in Middle Eastern peace negotiations during and after his presidency, as well as a reference to the Iraq War conflict from 2003 onward.
Two banners in the warehouse say "Read My Lips: No New Faxes". This is a reference to a quote by American President George H. W. Bush, "Read my lips: no new taxes". The quote was made infamous in hindsight during his presidency; as he ultimately raised existing taxes, and added what could arguably be considered a new tax.
The scene where Steven fires the T-Shirt Cannon from the top of the Funland Arcade is a reference to Charles Whitman, the infamous clock tower sniper.
When Mayor Dewey finds Buck Dewey's old drawing, he mentions the fact that Buck couldn't wait to show all his Montessori friends. Montessori schools, established in many places worldwide, introduce an alternative educational approach designed to teach children who have difficulty learning in a typical, regimented classroom environment.
The song Greg strums on his guitar before Steven goes to inquire about the shirts' effect bears similarity to "Rock Lobster", a song that's popularly played around campfires on beaches.
Steven's line "Oh I'll make them understand,  I'll make them ALL understand!" Is a line that is frequently used by mad scientists in various media.
The stools/chairs that the Crystal Gems are trying to assemble (and ultimately fail to do so) throughout the episode is a nod towards furniture company IKEA. The company sells "ready-to-assemble furniture" which is often made fun of as being notoriously frustrating-to-impossible to assemble.
The ceremony held for the new bench can be compared to the ceremonies for public works projects in the 2012 game Animal Crossing: New Leaf, in which your player is the mayor of the town and the citizens attend ceremonies to celebrate new projects, however unimportant they might be, such as a bench.
The title may be a reference to the 1999 film "Fight Club".
Continuity
Errors
After Steven talked to the Crystal Gems about helping him, Pearl and Garnet appear to be floating when they sit down.
Steven tells the Gems that he drew the poster with permanent marker but in the first scene of the episode, he is seen using a graphite pencil to draw the poster.
When Steven was coloring and showing the gems his flyer, it was white. When he was posting it in the Big Donut, it was blue, and when he taped it on Buck, it was white again.
The stools & instructions seen in the scene where Steven enters his house to ask the Gems for help change upon Steven's departure.
The door to his house opens to the left instead of to the right.
The screen door to Steven's house is shown to be missing the screen part after he goes back to tell the Gems that Buck was using his art in a way he was not comfortable with.
Transcript
View the episode's transcript here.
Gallery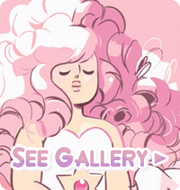 Videos
References