This is a list of miscellaneous objects that have appeared in Steven Universe but hold no significant or recurring role.
Chalkboard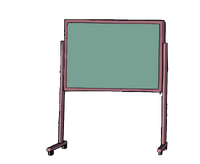 The Chalkboard is an object used as a drawing board for making plans or sketches. The chalkboard first appears in "Space Race". After watching Steven and Greg crash their handmade spaceship at the Barn, Pearl uses the chalkboard to draw a rough draft of a possible spaceship blueprint.
In "Back to the Barn", as the Crystal Gems and Peridot prepare to construct the Gem Drill at the Barn, Steven draws a crude blueprint of the drill on the chalkboard. Later on, Steven uses the chalkboard to record the points earned by Pearl and Peridot during the "Robolympics".
In "Too Far", Pearl finishes drawing up the blueprints for the drill head on the chalkboard and asks Peridot to look over them.
In "Super Watermelon Island", at the Barn, Peridot uses the chalkboard to show the stages of the Cluster when it emerges from the Earth. She also draws a picture of the Earth destroyed by the Cluster on the chalkboard.
In "Gem Drill", when the ground cracks from the Cluster about to take form, the chalkboard, with Peridot's drawing of the Cluster emerging, falls on Steven.
In "Steven vs. Amethyst", Pearl uses the chalkboard to record the Pearl Points earned by Steven and Amethyst during their competition at the Ancient Sky Arena.
Harpoon Gun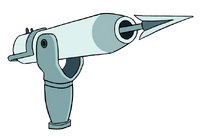 The Harpoon Gun is attached to a ship anchored at Beach City Pier. It made its first and only appearance in "Bubble Buddies". While Steven and Connie are trapped in Steven's bubble shield, Steven asks Onion to use the harpoon gun to pop the bubble. Instead of popping the bubble, the harpoon is deflected and sinks a nearby trawler boat.

Steven's Mug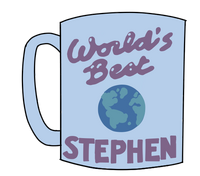 Steven's Mug is a white mug with a picture of the Earth and the caption "World's Best Stephen". In its only appearance in "Catch and Release", Steven holds it while discussing with the Gems what to do with Peridot, whom has confined herself to the Beach House's bathroom.

Trivia
Steven's Mug is a reference to how some souvenirs at gift shops have names on them, but sometimes do not have the correct or desired spelling (e.g.,"Steven" becomes "Stephen").
The idea for Steven's Mug was created by Lauren Zuke.[1]
References