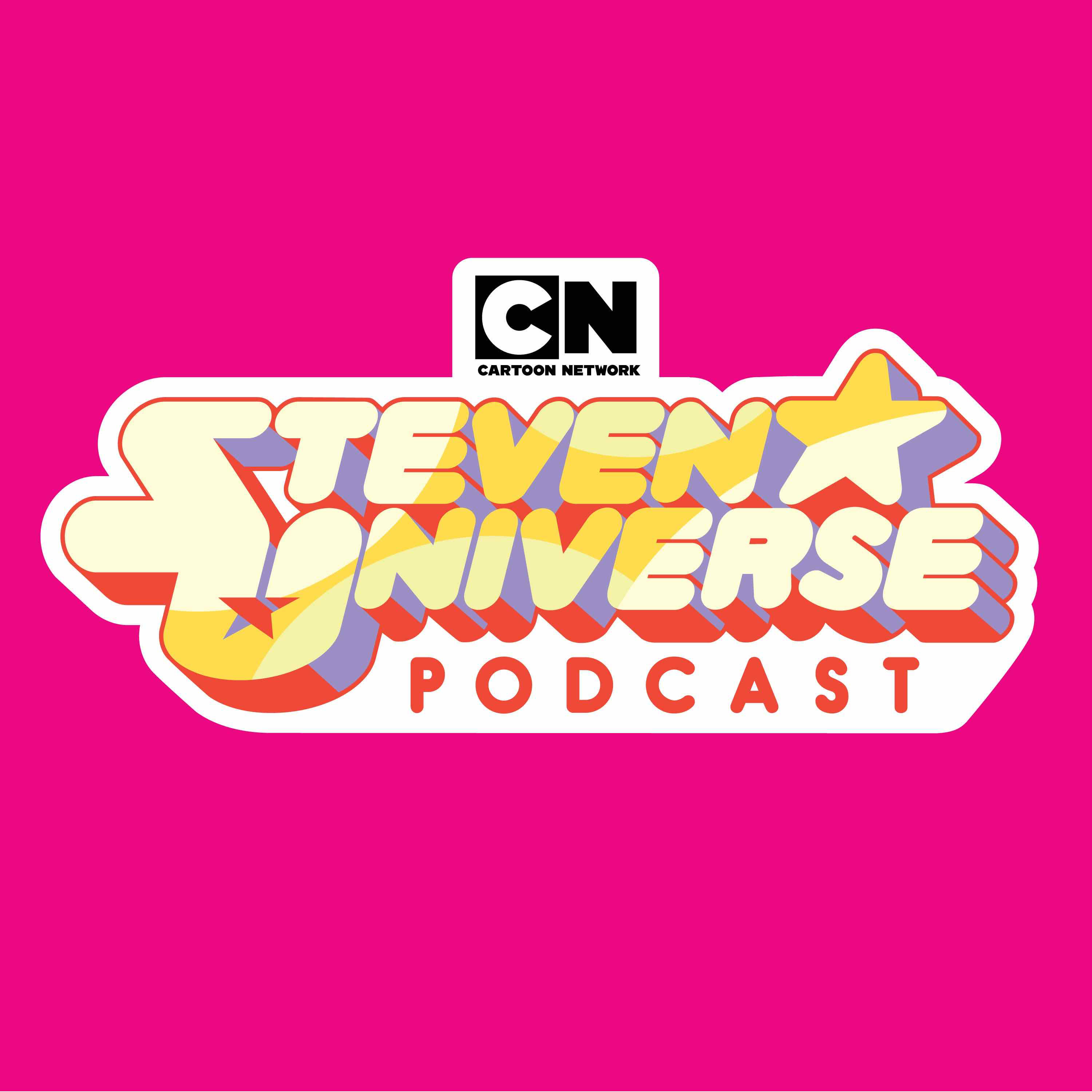 The Steven Universe Podcast is an Internet podcast hosted by McKenzie Atwood which debuted on July 20, 2017. The format of the show consists of informative interviews conducted by McKenzie with the creative team and cast of Steven Universe, addressing the creative process involved with the show from the guests perspective. The show is produced by Cartoon Network and published for streaming on iTunes.[1] In the NYCC 2017, it was announced that the podcast will return on October 26, 2017 by having a 8-part miniseries, taking a deep dive into fans' favorite episodes.[2]
Host
McKenzie Atwood
The show is hosted by McKenzie Atwood, a Steven Universe fan originally known for creating Steven Universe compilation and music videos on her YouTube channel, most notably her video "Everyone finds out about Pearl's secret rap career", which featured a cameo by Deedee Magno-Hall, the voice of Pearl. Atwood is currently an intern at Cartoon Network in Atlanta working in quality assurance, and had previously contributed to the mobile game Soundtrack Attack.[3]
Episode Guide
| Episode | Guest(s) | Title | Released | Running time |
| --- | --- | --- | --- | --- |
1
Rebecca Sugar, Steven Sugar
"Rebecca and Steven Sugar - Building A Universe"
July 20, 2017
33 minutes
Steven Universe creator Rebecca Sugar and her brother Steven, who inspired the title character and who also serves as a background artist on the series, talk about growing up together playing video games and watching anime. They reveal the origins of some of the Steven Universe imagery, characters, backgrounds, and music, what inspired the creation of the Gems, and fan theories about the show.
2
Zach Callison, Grace Rolek
"Zach Callison and Grace Rolek - Coming of Age with Steven Universe"
July 27, 2017
30 minutes
Zach Callison, voice of Steven Universe, and Grace Rolek, voice of Steven's best friend Connie, talk about growing up with and growing into their roles. Hear about the story of their auditions, how they found out they landed their respective parts, working with creator Rebecca Sugar and the Crewniverse, and some of their favorite episode moments and songs. Steven and Connie themselves join in and reveal their favorite video games, pizza, and the super power they wish they had.
3
Jeff Liu, Lamar Abrams, Maya Petersen, Amish Kumar, Hilary Florido, Joe Johnston, Kat Morris
"Drawn To Life"
August 3, 2017
49 minutes
Storyboard artists Jeff Liu and Lamar Abrams explain the boarding and writing process, and which characters are their favorites to board. Storyboard revisionists Maya Petersen and Amish Kumar share the challenges of revising group scenes, and shots featuring multiple Gems. And Storyboard Supervisor Hilary Florido and Supervising Directors Joe Johnston and Kat Morris take us inside the "Mr. Greg" episode, and offer tips and advice to upcoming young artists and animators.
4
Rebecca Sugar, Deedee Magno-Hall, Michaela Dietz, Shelby Rabara, Jennifer Paz
"Voicing The Gems with Rebecca Sugar, Deedee Magno Hall, Michaela Dietz, Shelby Rabara, and Jennifer Paz"
August 10, 2017
48 minutes
Shelby Rabara, Jennifer Paz, Deedee Magno Hall, and Michaela Dietz have stories about their respective auditions, working together and with other cast members in the booth, what they love best about their characters and the show, and which other Gems they were originally considered to voice. Steven Universe creator Rebecca Sugar returns to talk about the origin of the Gems, and what it took to find the perfect voices to play them.
5
Steven Sugar, Liz Artinian, Jane Bak, Mary Nash, Efrain Farias, Danny Hynes, Aleth Romanillos, Angie Wang
"All By Design with Steven Sugar, Liz Artinian, Jane Bak, Mary Nash, Efrain Farias, Danny Hynes, Aleth Romanillos, and Angie Wang"
August 17, 2017
45 minutes
The Steven Universe designers are responsible for the look, style, and color of the show. So today, we've got Art Director Liz Artinian, Lead Background Designer Steven Sugar, background designers Jane Bak and Mary Nash, colorist Efrain Farias, along with Danny Hynes and Aleth Romanillos, who do the early design work for the episodes, to talk about the real-life places and objects (and classic video games) that inspired the look of everything from Beach City to Homeworld to the characters themselves. We'll hear about their favorite episodes to create, their most challenging design moments, and their proudest design achievements.
6
Rebecca Sugar, Aivi Tran, Jeff Liu, Jeff Ball
"Rebecca Sugar and Aivi Tran - The Music of Steven Universe"
August 24th, 2017
47 minutes
It's the music of Steven Universe with Rebecca Sugar, composer Aivi Tran, and Jeff Ball! They share some amazing stories about what inspires the music how certain song ideas change and grow through the creative process, what it took to make the "Mr. Greg" episode, and how they approach the composing music for various characters, including the Gems. Plus Rebecca's thoughts on "Mr. Greg's" Emmy nomination, and she also shares some of her ukulele demos exclusively with us!
7
Ian Jones-Quartey, Ben Levin, Matt Burnett
"Ian Jones-Quartey, Ben Levin & Matt Burnett - Steven Universe Alumni"
August 31, 2017
40 minutes
The Steven Universe crewniverse is filled with amazingly talented people, and more than a few have gone on to create their own shows! Ian Jones-Quartey had a huge impact in bringing Steven Universe to life with creator Rebecca Sugar, and now he's launched his own series, "OK K.O.! Let's Be Heroes!" Ben Levin and Matt Burnett wrote many memorable Steven Universe episodes, and are now gearing up to launch their own show, "Craig Of The Creek." All three share stories and behind-the-scenes tidbits from their days on Steven Universe, and also provide a sneak peek at their own respective series and what's coming up for their characters.
8
Rebecca Sugar, Lauren Hecht, Nick DeMayo, Jackie Buscarino, Lisa Zunich
"How It's Made - Rebecca Sugar, Lauren Hecht, Nick DeMayo, Jackie Buscarino, and Lisa Zunich"
September 7, 2017
31 minutes
Rebecca Sugar assembled a team of ridiculously talented people to bring Steven Universe to life, and you'll find out how she managed to do that! You'll also discover why diversity in background, culture, and life experiences was crucial to her selection process, how the respective crewniverse members' influences make their way into the show, and what really happens during those crewniverse writer retreats! Plus, if you're wondering why it takes 10 months for a new Steven Universe episode to make its way to you, Producer Jackie Buscarino and Production Manager Lisa Zunich will fill you in. And if it moves on Steven Universe, then Animation Director Nick DeMayo and Animatic Editor Lauren Hecht were involved! They've got favorite moments & episodes to share, and reveal some of the scenes and characters they fought to save from the cutting room floor (remember that crab?!)!
9
Thomas Sanders, Chris Graham, Maya Petersen, Amber Cragg, Mario Piedra
"From Fan To Crew - Thomas Sanders, Chris Graham, Maya Petersen, Amber Cragg, and Mario Piedra"
September 14, 2017
44 minutes
If you're a Steven Universe fan, and your dream is to someday work on the show, then this episode is for you! Storyboard Revisionist Maya Petersen and Storyboard Artist Amber Cragg share their incredible stories about how fan art and fandom led them to joining the crewniverse! Cartoon Network Games Creative Director Mario Piedra, and Chris Graham who designed the mobile game, "Attack the Light", and upcoming console game "Save the Light", also turned their love of Steven Universe into jobs! And Youtube Star and superfan Thomas Sanders reveals how he discovered the show and started working with the cast.
10
Rebecca Sugar, Steven Sugar
"Leading The Way - Rebecca and Steven Sugar"
September 21, 2017
33 minutes
It's the season finale of the Steven Universe Podcast, and that means both Rebecca and Steven Sugar return to share the stories from their childhood that directly inspired some of episodes. Rebecca is also answering YOUR questions about the show, the characters, fan theories, video games, and the pineapple pizza debate. Plus, Rebecca brought along her ukulele and debuts a brand new, never-before-heard song from an upcoming episode of Steven Universe.
Gallery
External Links
References