This is a compiled list of every toy in Steven Universe and their history (most of which are owned by Steven).
Plush Toys
Mr. Queasy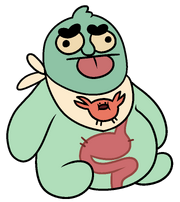 Mr. Queasy is a plush toy and a childhood favorite of Steven's. It is a doll that if shaken will say things like "Ooh, kid, don't shake me". It is the first of Steven's toys to have a name and the first to appear in the series in the episode "Cheeseburger Backpack". It is offered as a substitute for the Moon Goddess Statue, which leads to its destruction.
It is light green with a stomach-like painting over its chest. It has a bib with a crab-like animal printed over it.
M.C. Bear Bear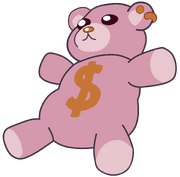 M.C. Bear Bear is a stuffed bear and one of Steven's plush toys.
In "Mirror Gem", as Pearl is stacking objects in Steven's room, Amethyst tries to place it next to Pearl's pile. She stabs it with her spear because she does not think it is symmetrical.
It is light pink with a golden yellow dollar sign on it, with two earrings in its left ear.
Master of Ceremonies Bear Bear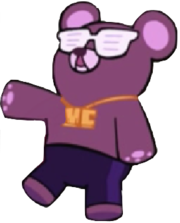 Master of Ceremonies Bear Bear is a stuffed bear and one of Steven's plush toys, not to be confused with M.C. Bear Bear. It is seen in "Future Vision" when Steven is deciding whether or not to rid of him. It is shown again near the end of the episode, when Steven finds it under the table.
In "Monster Reunion", Steven notices a tear in Master of Ceremonies Bear Bear and heals the tear with his healing spit.
It is pinkish brown, has purple shorts, white glasses and a "MC" chain that is colored yellow.
Master of Ceremonies Bear Bear resembles "Dropout Bear", the mascot of Kanye West.
Sir Bearington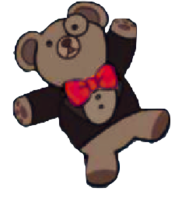 Sir Bearington is a stuffed bear which makes its first appearance in "Lion 3: Straight to Video".
It is light brown, wears a suit with a red bow tie and a brown monocle in its left eye.
Playful Kitty
A plush, orange and white cat that makes its first and only appearance in "Catch and Release".
Steven is seen saying goodnight to it, among other toys, before noticing an "ominous triangle" at the foot of his bed.
Peridot's Alien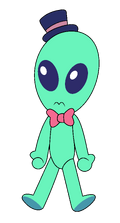 A large alien plush toy wearing a top hat and red bow tie.
Awarded to Peridot in the episode "Too Short to Ride" at Beach City Funland, upon winning a ring toss game. Later in the episode "Beta" it can be seen inside an aquarium at the barn, with Peridot wearing its bow tie.
G.U.Y.S. franchise
Main article: G.U.Y.S.
G.U.Y.S. (Guys Under Your Supervision) are a set of collectible toys in Beach City. They debuted in the episode "Onion Trade". They are sold at the G.U.Y.S. dispenser in the Funland Arcade. Ranger Guy is the rarest figurine, and Dave Guy is the most common one. Both Onion and Steven are collectors of G.U.Y.S., and the two alternate versions of this series are B.O.Y.S. and G.A.L.S.
Main article: G.A.L.S.
"G.A.L.S." (Gals Against Lazy Stereotypes) are a brand of toys similar to G.U.Y.S., first appearing in "Onion Friend". They are currently discontinued.
Main article: B.O.Y.S.
"B.O.Y.S." (Boys On Your Shelf) are collectible toys made out of pewter that are similar to G.U.Y.S. According to Ronaldo Fryman, "Kids collect G.U.Y.S., but men collect B.O.Y.S.!"
Ranger Guy
Ranger Guy is Steven's favorite G.U.Y.S. toy. Before becoming a ranger, Ranger Guy used to be a doctor. He's the rarest of all the G.U.Y.S. and Steven got him from his father, Greg, when they spent a special day at the beach that ended in Greg winning it for Steven.
He is stolen by Onion in "Onion Trade" because Onion is lonely most of the time and needs a friend, or something to keep him entertained. After causing havoc all day because of it, Steven ends up giving Ranger Guy to Onion so that Onion could have company while waiting for his dad.
Steven's Ranger Guy is a unique Guy due to its miscolored "light" hat. Based on Ranger Guy's image on the G.U.Y. machine, his hat should normally be dark blue like his bandana.
Steven's Ranger Guy also has S.U. marked on his feet for the initials of "Steven Universe."

This could be a reference to the movie Toy Story, in which Andy marked his name on the bottom of his toy cowboy Woody's foot.
Dave Guy
Dave Guy is one of the more common G.U.Y.S. available (despite the vending machine saying "Lucky!") and Steven's least favorite out of them all. While the other G.U.Y.S have something exciting or special about them such as "Ninja Guy" or "Ranger Guy", Dave Guy is just an "average joe" with nothing special about him; this is reflected in his accessory which is just a tax form.
He is a light blue-skinned human(oid) action figure. He has a big, blonde beard and hair flattened to the side of his head. His outfit consists of a plain red t-shirt and purple-blue pants.
Dave Guy resembles Pendleton Ward, the creator of Adventure Time.
Explorer Gal
Explorer Gal is an action figure in the G.A.L.S. series. Onion gave her to Steven as a gift of friendship.
She looks like a typical cowgirl. She has a beige cowboy hat, blonde hair, a cyan dress with two white buttons, an orange-red scarf, and brown gloves and boots. On one hand she has four fingers, while the other hand is balled up at her hip. Her eyes are closed and has an open-mouthed smile.
Misc.
Water Gun

The Water Gun is a basic pump action water pistol, similar to the ones found in toy stores. It has been used multiple times in the series including in "Together Breakfast", "Ocean Gem", and "Warp Tour".
Cluster Puppet
The Cluster Puppet is a green sock puppet that Steven uses as a representation of the Cluster in his and Peridot's presentation to the Crystal Gems in "Back to the Barn".
At the beginning of "Back to the Barn", Peridot is giving a lecture to the Crystal Gems as to what The Cluster is and what threat it brings to Earth. When she mentions that when the Cluster is finished forming it will destroy Earth, Steven pops the puppet out of his cardboard box diagram of Earth, breaking it.
The puppet doesn't reappear until the end of the episode when Steven talks to himself in third person as the puppet. It exclaims when Steven mentions they'll stop it, and the puppet then "bites" Steven's head.
In the previous episode "When It Rains", Peridot shows Steven a hologram of where the Cluster is underneath the Earth, as well as its gigantic gemstone. The puppet has no gemstone, most likely because its placement on the Cluster is still unknown to Steven.

Peridot noted that the puppet looked nothing like the Cluster.

The puppet's "emergence" from the Earth is similar to the chest-bursting Xenomorph scene in the film Alien.
Bass Fish Toy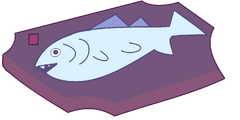 The Bass Fish Toy is a singing toy fish seen in Amethyst's Room in the episode "Secret Team". In that episode, Steven accidentally steps on it, prompting it to move its head and tail while singing its song "Fishing for Compliments".
The body of the Bass Fish Toy resembles a bass fish. It is a very light ice-blue, with two darker blue fins on its back. It has five visible teeth and two large gills on the side of its head visible when not moving. It has a brown mount, and a red button prompting it to sing "Fishing for Compliments" when pressed.
It is an homage to the wall-mounted singing toy fish, popularized by the wall-mounted fish "Big Mouth Billy Bass" which was invented in 1998 and popular in the early 2000s.
A similar fish appears in "Maximum Capacity".